For partners

Dropshipping is a model for the sale of goods, direct delivery from a supplier to a buyer.
The benefits of dropshipping include:

1. start your own business from scratch;
2. lack of investment;
3. lack of need for warehouse and logistics;
4. prompt processing of orders and fast delivery;
5. a large assortment that will provide an opportunity to interest any buyer;
Dropshipping, for today, is a good model for starting a business. After all, to start, you don't have to buy goods to the warehouse at all, worry about delivery, cash tracking and so on.
To start such a business, you need to post information about the product in your online store, pages on social networks (Facebook, Instagram, etc.) and transfer orders to the supplier as orders arrive.
Your task is to advertise the goods and get a real order, then you betray this order to the supplier who carries out all the remaining processes. Profit in this case is the difference between the wholesale price of the supplier and the selling price to the customer.
In a schematic form, it looks like this: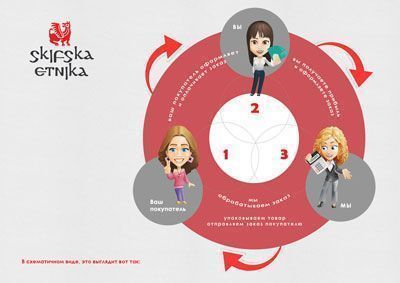 Good afternoon!
"Skifska Etnika" is a trademark whose main task is to create high-quality and inexpensive jewelry with a historical plot. Our jewelry is often an exact copy of real fragments discovered during excavations in the northern Black Sea region. We give the opportunity to purchase not just jewelry, but original designer jewelry in ethnic style, thereby pursuing the main goal - to apply historical aesthetics to the face of a modern person.

"Skifska Etnika" is a complete cycle of modern jewelry production: from a creative idea, drawing, model to skillfully made finished product. Our works are expertly cast using unique technology. Each detail, before becoming an ornament, goes through 12 to 30 stages of processing. The team of the company works on creating the collection from three months to six months, carefully analyzing historical material. Our artists rely on solid historical facts and consult historians and archaeologists. As a result, images are born, filled not only with aesthetics, but also with a certain sacred meaning that is so necessary for modern people.
The base material of jewelry is an alloy of zinc aluminum and copper, does not contain nickel and does not cause allergic reactions. ZAMAK allows you to cast quite large, and at the same time light parts. Products are covered with silver, brass and copper jewelry. This provides a quality coating that is resistant to damage.
We are witnessing an active growth in demand for our products. In this regard, we are starting to search for strategic partners and are reporting on our readiness to begin negotiations.
The company "Skifska Etnika" makes it possible to work and develop in several directions at once:

1. Wholesale and retail trade in finished products - jewelry;
2. Wholesale and retail sales of religious products - icons, name pendants, crosses, etc .;
3. Placing orders for the production of furniture and sewing accessories, award signs, nameplates, etc. on the basis of the production capacities of the "Skifska Etnika" factory.

We inform you of our readiness to discuss with each potential partner individual conditions of cooperation, to determine the best option for development.
If you are interested in cooperation, just call the numbers listed in the contacts section of our website or write to us by e-mail.
Business with the "Skifska Etnika" is - perspective, profitable, stable.
Respectfully, Director of the "Skifska Etnika" A. Dzyubenko